Rwanda, Japan policy dialogue timely – Museminali
NYARUGENGE - The Minister of Foreign Affairs, Rosemary Museminali, has hailed the fifth Rwanda-Japan annual policy dialogue which took place on Monday at the ministry. "Let me emphasize that this particular policy dialogue takes place at an opportune time, right after the recently held TICAD IV Summit which was fruitful," she observed. Jointly chaired by Museminali and Shigeo Iwatani, Japan's envoy to Rwanda, the discussions come in the wake of the May Tokyo International Conference for African Development (TICAD IV).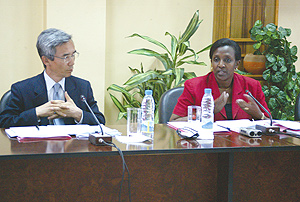 Minister of Foreign Affairs and Cooperation, Rosemary Museminari, with Japanese Ambassador Shigeo Iwatani at the opening of the 4th Annual policy dialogue between the governments of Japan and Rwanda. (Photo / J. Mbanda).