Judicial conference condemns abuse of universal jurisdiction
NYARUGENGE - An international judicial conference has recommended the use of Universal jurisdictions but condemned its abuse. The three-day meeting was aimed at evaluating the recent judicial reforms in Rwanda. It concluded Wednesday evening by recognizing progress and remarkable achievements in the reforms. "The conference applauded the tremendous improvements and achievements made in the justice sector since the reforms started taking shape in 2004," said Tharcisse Karugarama, the Minister of Justice.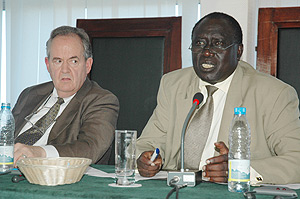 Karugarama and one of the participants of the International Judicial Conference at Hotel des Milles Collines.