EPAs seminar presses for win-win outcome
PARLIAMENT - Participants during Wednesday's consultative seminar on the role of Parliament and the private sector in negotiations on the Economic Partnership Agreements (EPAs) urged key stakeholders to ensure a win-win outcome for both sides.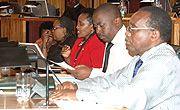 A cross section of MPs. Parliament began its last session as it gears up for fresh parliamentary elections in September. (Photo / G. Barya).