Life inside Gihembe Refugee Camp
Gihembe refugee camp is located on a small hill in Gicumbi District, Northern Province. The camp currently is a home to about 20,000 refugees from the Democratic Republic of Congo who fled political turmoil in their country in 1997.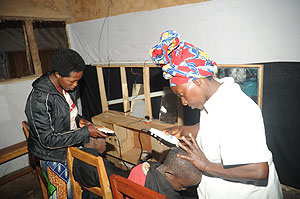 Daphroza Uwineza, a Congolese refugee, operates a hair salon in Gihembe Refugee Camp. The New Times / The New Times / J. Mbanda.