Over 30,000 Genocide victims to get decent burial at new site
NYAMAGABE – Bodies of over 30,000 victims of the 1994 Genocide against the Tutsi killed at Cyanika Parish, Nyamagabe District will be reburied at a new memorial site in the same area on Sunday, February, 26.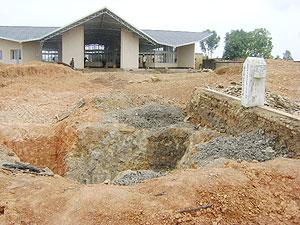 The old graveyard of Genocide victims in Cyanika with the new memorial site built in the background. Over 25,000 remains will be accorded a decent burial.