Not Pacquiao, Mayweather sets May 5 date with Cotto
LAS VEGAS – Unbeaten US boxing star Floyd Mayweather announced Wednesday he will fight Puerto Rico's Miguel Cotto on May 5, ending hopes for a showdown with Manny Pacquiao before November.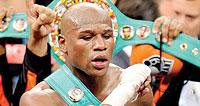 Floyd Mayweather will take on Cotto at the MGM Grand in May. Net photo.