Over 3,000 Genocide victims in Rubavu still buried in mass grave
Seventeen years after the Genocide against the Tutsi, remains of more than 3,000 victims in Gisenyi Sector, Rubavu District still remain in a pit with the tools that were used to slaughter them.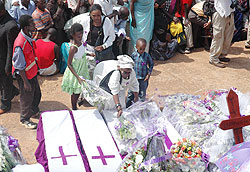 All Genocide victims should be accorded a descent burial. The New Times / File.