Over 130 Genocide victims' remains laid to rest in Huye
HUYE- The remains of 137 victims of the 1994 Genocide against the Tutsis were, on Monday, laid to rest in various parts of Huye District.At Ruhashya Memorial Site, 122 victims were accorded a decent reburial while in Mbazi Sector; a further15 were interred. Thousands of mourners attended the ceremonies.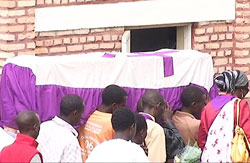 Mourners carrying the remains of Genocide victims in Mbazi sector (Photo JP Bucyensenge).