6000 Genocide victims's remains moved to Nyanza
NYANZA - The remains of 6000 victims of the 1994 Genocide against the Tutsi were, yesterday, accorded a decent burial at Nyanza Memorial Centre in Kicukiro District.5,771 victims were exhumed from Nyarugunga memorial site which was in poor condition; the other 229 were recovered from various locations in the district. Nyanza memorial now houses 11,000 victims..Addressing the mourners, Senate president, Dr. Vincent Biruta, told the mourners that remembering the Genocide is a time to look back at the country's bad history and the impact left behind by the Genocide.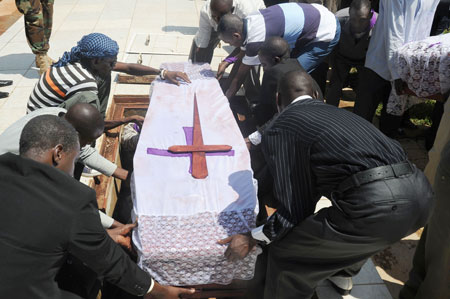 Relatives giving decent burial to the Genocide victims at Nyanza, Kicukiro (Photo T.Kisambira).