Over 70 laid to rest at Kiziguro memorial site
GATSIBO- The remains of 76 Genocide victims were yesterday accorded a descent burial at Kiziguro Genocide Memorial site in Gatsibo District.About 11,000 people are buried at the site, a killing base of the notorious former Murambi Commune Mayor, Jean Baptiste Gatete, who was recently handed a life sentence for Genocide crimes by the Arusha-based International Criminal Tribunal for Rwanda (ICTR).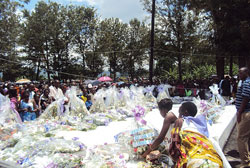 Mourners laying wreaths at mass graves at Kiziguro genocide memorial site. (Photo.D Ngabonziza).