Rwanda joins Commonwealth
TRINIDAD and TOBAGO - Rwanda has finally been admitted into the Commonwealth group of nations. The Commonwealth Heads of Government Meeting (CHOGM) taking place in Trinidad and Tobago yesterday evening confirmed Rwanda's entry into the 53-nation group mainly composed of former British colonies. "We haven't received all the details, but it is confirmed that the Heads of State summit admitted Rwanda into the Commonwealth," Rwanda's Ambassador to the United Kingdom, Claver Gatete, told The Sunday Times from Port of Spain, the capital of Trinidad and Tobago.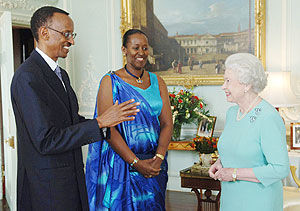 President Paul Kagame and the First Lady Jeannette Kagame meeting Queen Elizabeth II at a past event in London.