Cobra launches Mama Africa Restaurant
Saturday saw yet another Cobra Milestone. The famous Cadillac proprietor launched his Mama Africa Restaurant over the weekend, in a strictly invitation ceremony.The ceremony kicked-off with a cocktail that saw guests being treated to an assortment of drinks from juice cocktails to liquors, beers and various cocktails.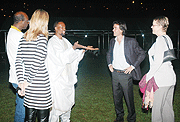 Cobra (in a white African outfit) having a chat with his guests.