Memorial site in sorry state
NGOMA - Mugesera Memorial site in Ngoma District will soon be relocated to another location in the district due to its sorry state. Local authorities have fears that the memorial site might not survive the coming rainy season. The site has no concrete floor, and it is not roofed which leaves it vulnerable to heavy rains.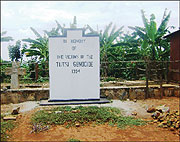 Mugesera memorial site.