Survivor's story of Interahamwe torture
Clemence, 50, had three children. They were murdered in 1994 during the Rwandan genocide against the Tutsi. Her husband Francois, was also killed by the ethnic militia; the 'interahamwe'. Clemence survived but after being held hostage and raped countless contracted HIV.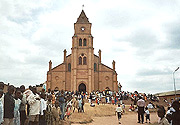 Christians gather at Kabgayi Basilica after the genocide where thousands of Tutsi were massacred.