African Union chief lauds operations against FDLR
URUGWIRO VILLAGE - The head of the African Union Commission, Jean Ping, yesterday commended the cooperation between Rwanda and the Democratic Republic of Congo (DRC) to uproot rebels of the Democratic Forces for the Liberation of Rwanda (FDLR) and restore regional peace. Ping made the remarks following his meeting with President Paul Kagame, at Urugwiro Village, after making a similar visit to Congolese President Joseph Kabila on Tuesday. The joint operation that was launched in January came to an end yesterday, with widespread expressions of satisfaction, as many called it a success. "It is clear and we fully support the ongoing process and I came here to reaffirm this," Ping told journalists shortly after the talks with Kagame.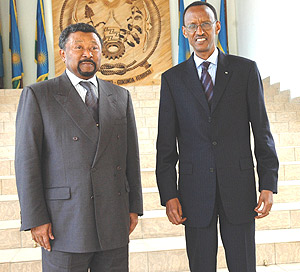 President Kagame with the Chairperson of the AU Commission Jean Ping, after their meeting at Urugwiro Village yesterday. (PPU Photo).