Kigali Master Plan to be unveiled today
GASABO - Kigali City officials will reveal the town's new commercial hub, the Central Business District (CBD), and a new residential area as they launch the city's 50-Year Master Plan, in Remera today. Detailed physical planning of the CBD shows that it will be located in the actual areas of Muhima, Kiyovu, Quartier Mateus, Quartier Commercial and Kimicanga, a statement released by the city administration revealed.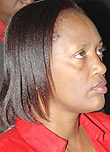 Kigali City Vice Mayor Jeanne d'Arc Gakuba.