Regional countries set up Virunga conservation agency
Agency to have headquarters in Rwanda Regional ministers who hold portfolios to do with environmental conservation and tourism, have requested Rwanda to register a five-year old institutional mechanism, as an 'Inter-State agency' to coordinate conservation works in the Virunga volcanoes.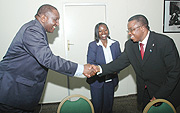 Ugandan State Minister of Tourism Serapio Rukundo (L) shakes hands with DR Congo Administrator for Nature Conservation Cosma Wilungula as Commerce Minister Minique Nsanzabaganwa looks on. (Photo/J Mbanda).