FDLR begin to surrender in face of joint Rwanda-DRC offensive
Elements of the Ex-FAR/Interahamwe have started feeling the heat of the on-going Rwanda-Democratic Republic of Congo (DRC) joint military operation to disarm and repatriate them and have started to surrender.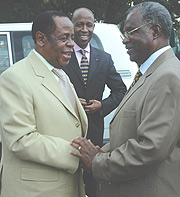 DRC Defence Minister Charles Mwando Simba shaking hands with Gen Marcel Gatsinzi during their meeting at the Rwanda-DRC border in Gisenyi. (File Photo).