Museminari raises issues of security and Universal Jurisdiction in Doha
DOHA - Foreign Affairs Minister, Rosemary Museminari, Sunday drew world leaders' attention on the country's current security concerns and the ongoing battle over the apparent abuse of the Principle of Universal Jurisdiction. She was addressing the international conference on financing for development in Doha, Qatar.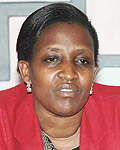 Rose Mary Museminari.