Hundreds turn up for Kabuye protests in Brussels
BRUSSELS - Nineteen days after Rose Kabuye's arrest in Germany and extradition to France, protests against what many consider an illegal arrest of the chief of State Protocol continue all over the world.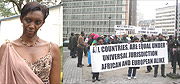 L-R: Rose Kabuye, Protesters in Brussels show their feelings on the arrest of Kabuye. (Courtesy photo).