Ministers reveal joint plans to weed out FDLR in Congo
GASABO - Parliament yesterday, heard that there was currently a "four plus four" high-level bilateral framework, in which four Rwandan officials, have met twice with their counterparts in the Democratic Republic of Congo (DRC) to set up a joint operational plan to do away with the FDLR.  This announcement was made during a parliamentary briefing by the Minister of Foreign Affairs and that of Defence. The ministers had been summoned by parliament to shed light on the regions security, especially the war in neighbouring DRC and its impact on Rwanda.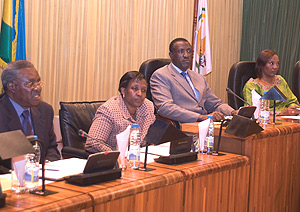 Foreign Affairs Minister, Rosemary Museminali, and her Defence counterpart, Gen Marcel Gatsinzi, appearing before Parliament yesterday. (Photo/ G.Barya).