Local government leaders protest Kabuye's arrest
More than three thousand local government leaders in Kigali City yesterday also added their voice in the protest against the arrest of Rose Kabuye, the Chief of State Protocol.  It's now ten days since she was arrested and detained in Germany while on official duty.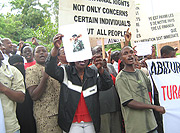 JUSTICE IS FOR ALL: Local Government leaders in Kigali protest against Kabuye's arrest yesterday. (Photo/ E. Kwibuka).