Activists call for more measures against domestic violence
In a public briefing held Sunday at Telecom House, activists rung a reminding bell that statistics of violence against women and children are still high and called upon government to increase measures against it.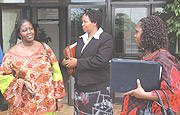 L-R: Jaquelline Bakamurera, grace Bunyoye and Agnes Nyirandabaruta after the talk show at Telecom House. (Photo/ J Mbanda).