Kagame presides over special EAC summit
Johnston Busingye appointed Principal Judge KAMPALA - An East African Community (EAC) Summit held in Kampala Thursday highlighted progress on a comprehensive roadmap to integrate the two new partner states – Rwanda and Burundi – in its agenda. The Seventh Extraordinary EAC summit, presided over by President Paul Kagame, the EAC Chairperson, and attended by the bloc's other Presidents except Burundi's Pierre Nkurunziza, kicked off late after the conclusion Wednesday of the historic Tripartite Summit.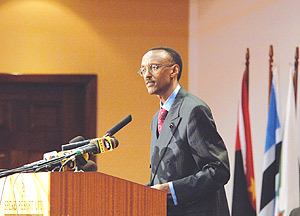 President Kagame addressing the Tripartite Summit in Kampala Thursday. (PPU photo).