Government denounces DR Congo/ FDLR alliance
•Urges international community to act NYARUGENGE - The government has condemned the alliance between the Democratic Republic of Congo's (DRC) army Forces Armées de la République Démocratique du Congo (FARDC) and Rwanda's former genocidal forces Interahamwe now regrouped under Forces Democratique pour la Liberation de Rwanda (FDLR).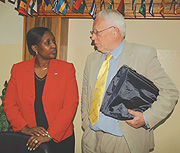 Foreign Affairs Minister, Rosemary Museminali talks to the Head of the European Commission Delegation in Rwanda, Amb. David MacRae.