RPF pulls crowds at UNILAK
GASABO - Hundreds of cheering students gathered yesterday evening at the Université Laïque Adventiste de Kigali (UNILAK) in a show of support to the Rwandese Patriotic Front (RPF-Inkotanyi) Parliamentary hopefuls who had come to campaign at the campus.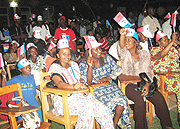 RPF supporters at UNILAK cheering their candidates on Thursday. (Photo / E. Kwibuka).