Gov't launches ICT awards
GASABO - The Rwanda Information Technology Authority (RITA), yesterday launched the country's first ever national awards of excellence in Information and Communication Technology (ICT) to encourage more private investments for a knowledge-based economy. The awards dubbed "Intego Awards" will be given out annually to the country's best ICT promoters in 16 different domains starting from the end of next month. There are over 141 companies dealing in telecommunications and ICT services in the country.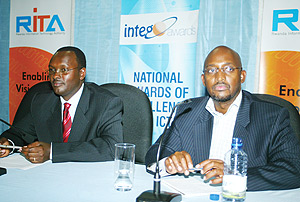 RITA Board of Directors Chairman, Emmanuel Hategeka (L) and RITA Executive Director, Nkubito Bakuramutsa at the launch of the Rwanda ICT Awards. (Photo G.Barya).