Coffee sector given major boost as country hosts Cup of Excellence
• 24 best coffees awarded Coffee farmers in the country have been extolled and boosted for outstanding quality production as the country hosted the first ever 'Cup of Excellence' – the most esteemed award given out to top coffees in the world. The prestigious ceremony that concluded late in the evening yesterday was attended by President Paul Kagame, senior government officials and foreign dignitaries, among others. Albeit not being the largest grower in Africa, the country hosted the first international specialty coffee competition in Africa at Jali Club.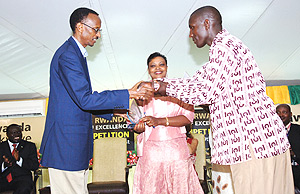 WELL DONE: President Paul Kagame handing over a trophy to the best coffee farmer at the Cup Of Excellence awards. (Photo PPU).