MONUC, EU acknowledge failure in disarming FDLR rebels in DRC
VILLAGE URUGWIRO - Both Alan Doss, the Special Representative of the UN Secretary General in the DRC and head of MONUC and Roland Van de Geer, the EU's Special Representative for the Great Lakes Region Wednesday acknowledged that implementing the Nairobi accord is a difficult undertaking.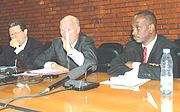 L-R : Allan Doss, Roland Van de Geer and Amb. Richard Sezibera. (Photo/ G.Barya).