Defence essential in bloc's integration – EAC liaison officers
KIGALI - Defence liaison officers of the East African Community (EAC) Wednesday emphasized the importance of defence cooperation in realizing the bloc's realistic integration. The group of five, one from each partner state, arrived on Monday to conduct a sensitization program on the status of defence cooperation in the country. They briefed Ministry of Defence (MINADEF) officials on the broad notion of the sub-region's integration, defence sector cooperation and cross-cutting peace and security issues shortly after paying a courtesy call on the Chief of General Staff Gen. James Kabarebe at his offices.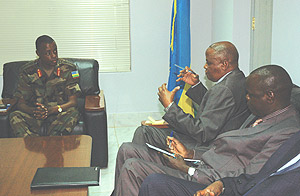 CGS Gen. James Kabarebe (L) with the Dean of Defence Liaison Officer Col. DT Matiku (C) and Brig .Gen. Fred Tolit at the Ministry of Defence offices at Kimihurura yesterday. (Photo/G. Barya).