Senate quizzes Premier over street children
SENATE - The current situation of children especially street children and orphans in the country is worrying and has made Senators summon Prime Minister Bernard Makuza to explain what the government is doing about it so far. The issue of the children was brought to the Senate's attention by the Senatorial Standing Committee on Social welfare, Human Rights and Petition headed by Senator Agnes Kayijire. Kayijire's committee had earlier forwarded a report to the Senate in which it listed difficulties faced by these children.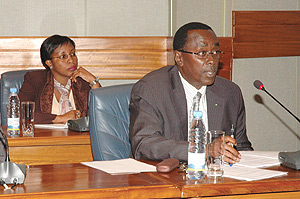 Prime Minister Bernard Makuza appearing before the Senate yesterday. (Photo / G.Barya).